Here is a list of all podcasts (I listen to) antitrust law enthusiasts may enjoy—whether to get new information or bold ideas to change the world. There is no particular order… unless there is a spontaneous one… 😉
***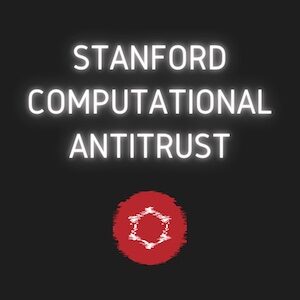 Stanford Computational Antitrust
Spotify | Apple Podcast | Stitcher | YouTube
What? Why?: The podcast explores how computational tools (such as AI and blockchain) impact antitrust analyses and procedures. Created by Thibault Schrepel (yes, myself), it complements the Computational Antitrust project at Stanford University CodeX Center (see our website). Long story short, I discuss computational antitrust with our contributors coming from the fields of law, economics, and computer science.
My take: Well… being the podcast creator, I am not so certain to be in a good position to give my opinion on the matter. Let me simply say that I invite great scholars on a monthly basis and that the format is rather short (about 30 min per episode). So… why not try it? 😉
Test episode: "Introducing Computational Antitrust (Thibault Schrepel)": In this episode 0, Thibault Schrepel introduces the Stanford Computational Antitrust podcast. He also discusses computational antitrust potential and limits.
***
What? Why?: EconTalk is an award-winning weekly talk show about economics in daily life. Featured guests include renowned economics professors, Nobel Prize winners, and exciting speakers on all kinds of topical matters related to economic thought. Host Russ Roberts, of the Library of Economics and Liberty and the Hoover Institution, draws you in with lively guests and creative repartee. Topics include health care, business cycles, economic growth, free trade, education, finance, politics, sports, book reviews, and the curiosities of everyday decision-making.
My take: Full disclosure: EconTalk is not just a podcast to me, it is an obsession. I've been listening to Russ Roberts' podcasts for years and it has opened my mind to so many topics that I couldn't possibly list them all. Not only is EconTalk useful for antitrust fanatics as Russ and his guests discuss competitiveness, tech giants, and regulation on a regular basis, but also, it shows how much the fields of science benefit from knowing each other better. I would recommend this podcast to anyone interested in understanding the world we live in. Period.
Test episode(s): "Matt Ridley on the Evolution of Everything": Matt Ridley talks with EconTalk host Russ Roberts about his latest book, The Evolution of Everything. Ridley applies the lens of emergent order to a wide variety of phenomena including culture, morality, religion, commerce, innovation, and consciousness.
"Sam Altman on Start-ups, Venture Capital, and the Y Combinator": Sam Altman, president of startups accelerating firm Y Combinator, talks to EconTalk host Russ Roberts about Y Combinator's innovative strategy for discovering, funding, and coaching groundbreaking startups, what the company looks for in a potential startup and Silicon Valley's attitude toward entrenched firms. The two also discuss Altman's thoughts on sectors of the economy that are ripe for innovation and how new firms are revolutionizing operations in these industries.
*** 
What? Why?: Inspired by the books of the same name, Freakonomics Radio is hosted by Stephen Dubner, with co-author Steve Levitt. An award-winning podcast exploring "the hidden side of everything". From the economy, headline news to pop culture. Available weekly on-demand from WNYC Public Radio.
My take: This is probably the most entertaining podcast on this list. Maybe that is why I learned so much over the years thanks to Stephen Dubner. In Freakonomics Radio, he is analyzing the world through the lenses of a (behavioral) economist and applying "market thinking" to nonmarket things. It's hard not to fall in love with Freakonomics Radio (and the books). It opens the mind.
Test episode: "How to Launch a Behavior-Change Revolution": Academic studies are nice, and so are Nobel Prizes. But to truly prove the value of a new idea, you have to unleash it to the masses. That's what a dream team of social scientists is doing — and we sat in as they drew up their game plan.
***
What? Why?: Our Curious Amalgam explores topics in antitrust, competition, consumer protection, data protection, and privacy law around the world with leading experts in those areas. It is an amalgam because it is a group of diverse topics all in one place. It is curious because it gets the experts and asks them in-depth questions.
My take: In just a year, Our Curious Amalgam has become a must-listen-to when it comes to antitrust podcasts, la crème de la crème. What do I like the most? The podcast combines academics, practitioners, and other experts, always on cutting-edge topics.
Test episode: "#74 Will the Past Repeat Itself?" U.S. antitrust dealing with tech ranges from early government cases involving punch cards to the current government probe into various platforms. But while the tech evolves, has the antitrust concern with monopolization by big tech changed? Prof. Randy Picker, a leading scholar studying antitrust and tech, joins Anora Wang and John Roberti to discuss the once epic, 13-year-long, U.S. antitrust case against IBM, and whether antitrust actions could have impacted the tech landscape for decades to come.
***
What? Why?: Tech antitrust policy from Brussels.
My take: Having two (great) hosts is a fantastic idea. Kay Jebelli & Friso Bostoen are very dynamic, fun, and innovative.
Test episode: "The CMA's FB/GIPHY Decision": In May 2020, Facebook (now Meta) acquired the gif library GIPHY. The UK's competition authority (the CMA) started investigating the merger and finally, in November 2021, ordered Facebook to sell GIPHY again. In this episode, we examine the CMA's merger control assessment and the more interventionist approach to digital markets it exemplifies (Recorded 27 January 2022)
***
What? Why?: "Antitrust Code" is a podcast series that aims to decode antitrust law and policy. Concurrences guests discuss the latest news and topical issues in competition law and economics around the world.
My take: Concurrences' podcast is sharp: it combines great expertise with a good, fast format.
Test episode: "Is the inclusion of public interest a good idea?": In this new episode, Eleanor M. Fox (Professor, NYU School of Law) discusses with Frédéric Jenny (Chairman, OECD Competition Committee) whether the inclusion of public interest a good idea.
***
What? Why?: The day's tech news, every day at 5 pm. From Techmeme.com, Silicon Valley's most-read news source. 15 minutes and you're up to date.
My take: When it comes to tech news, Techmeme Ride Home is the bible. The format is rather perfect, it is well-produced, and, most importantly, the news is always spot on. I learned so much from it, highly recommended to escape our antitrust bubble and understand what's happening in the real (tech) world.
Test episode: "Facebook Defends Its Stance In Australia": Facebook defends its stance in Australia. MicroStrategy doubles down on its stance vis-à-vis bitcoin. Is "Sign In With Apple" the new stick the antitrust folks might use to beat Apple with? But conversely, have you noticed that social networking has gotten hella competitive lately? What does that mean for anti-trust arguments vis-à-vis Facebook. Oh, and a skateboard for AR glasses.
***
What? Why?: The a16z Podcast is the go-to place for discussions about technology, innovation, and change as it impacts all our lives, covering everything from tech trends and culture to company building for companies of all sizes. As technology changes everything — not just in Silicon Valley or in traditional "tech" companies, but across all industries — it's also changing the way we all work, live, eat, learn, and play. This show aims to help make sense of it all: for builders, for the tech curious, for anyone seeking to understand the future, now, through carefully curated, in-depth yet accessible, nuanced conversations with top industry and academic experts from around the world; company leaders, builders, makers; book authors; and emerging voices.
My take: a16z is arguably the most trusted resource when it comes to tech news. This podcast is a real goldmine for identifying the issues faced by developers, rather than the ones debated by antitrust agencies and courts.
Test episode: "The Holy Grail of Social + Fintech": The intersection of social and finance—as well as shifting attitudes around what we share about money online—have given way to an ambitious new wave of financial products. While revealing one's financial information was once considered taboo, now people are more apt than ever to openly discuss money online, particularly Gen Z and millennials. That's evident on both ends of the spectrum, whether people are bemoaning their crushing levels of student debt on Twitter and Instagram or bragging about their latest stock trades on WallStreetBets. The repercussions extend far beyond social media, fueling a wave of new social-fintech products like Public, Commonstock, and Doji, among others. In this conversation between fintech partner Anish Acharya, formerly a product manager at Credit Karma, consumer partner D'Arcy Coolican (who himself is a former founder in this space), and host Lauren Murrow, we discuss why the "holy grail" of social plus finance is both so challenging and, potentially, so rewarding.
***
Competition Lore
[edit 2021: the podcast is not running anymore]
What? Why?: Featuring regular cut-through interviews with leading thinkers, movers, and shakers, Competition Lore is a podcast series that engages us all in a debate about the transformative potential and risks of digitalised competition. Join Caron Beaton-Wells, Professor in Competition Law at the University of Melbourne, to tackle what it means to participate as a competitor, consumer, or citizen in a digital economy and society.
My take: Competition Lore is the world's first and best podcast entirely dedicated to competition law. Despite my bias (I was recently invited as a guest), I find Competition Lore to be highly informative and thoughtful. Let me put it this way: if you work in the field of competition/antitrust law, you have no choice but to listen to Competition Lore. Caron connects the academic world with enforcers and (tech) companies as no-one else in the world. The podcast is very well produced and the host is one of the most captivating academics in the field. What else?!
Test episode: "Blockchain as the death of antitrust?" (I mean…): Blockchain technology and smart contracts hold some promise for reinvigorating competition, providing more efficient and secure ways of doing business on the internet, while at the same time lifting the bar in data protection and privacy. But is this new general-purpose technology all that it's made out to be? Will it challenge the power of the major digital platforms? And what are the risks that blockchain itself will become concentrated and fall prey to anti-competitive conduct? In this episode, Dr Thibault Schrepel, Assistant Professor at the Utrecht University School of Law, takes on these challenging questions.
***
What? Why?: Listen in as MLex expert contributors discuss some of the most important developments in regulatory risk and opportunity worldwide.
My take: MLex is known by all antitrust fanatics. The website is always first on reporting antitrust news all over the world. The podcast reflects that. It gives me raw information about what's happening in the field, and especially, great insights about regulators and competition agencies.
Test episode: "Tech in 2019: legal disputes and other impending regulatory and litigation issues": Several major legal disputes involving the US Federal Trade Commission and key tech companies Apple and Qualcomm are primed to go to trial on the West Coast of the United States early in 2019. These all lead up to the blockbuster antitrust trial between Apple and Qualcomm, and contract manufacturers who assemble Apple devices, scheduled to begin April 15.
***
What? Why?: Tyler Cowen engages today's deepest thinkers in wide-ranging explorations of their work, the world, and everything in between. New conversations every other Wednesday. Subscribe wherever you get your podcasts.
My take: Tyler Cowen is one of the co-authors of the terrific blog Marginal Revolution. In this podcast, he is interviewing not only economists but also legal scholars, philosophers, sociologists, tech developers, and so on… Why is it useful to antitrust fanatics? Because it opens broad perspectives while keeping a strong academic take. The format is long enough so Tyler has the time to go (very) deep into the subjects. The conversations are friendly and insightful, a great match!
Test episode: "Steven Pinker on Language, Reason, and the Future of Violence": Steven Pinker has spent an entire academic career thinking deeply about language, cognition, and human nature. Driving it all, he says, is an Enlightenment belief that the world is intelligible, science can progress, and through rational inquiry we can better understand ourselves. He recently joined Tyler for a conversation not only on the power of reason, but also the economics of irrational verbs, whether violence will continue to decline, behavioral economics, existential threats, the merits of aerobic exercise, photography, group selection, Fermi's paradox, Noam Chomsky, universal grammar, free will, the Ed Sullivan Show, and why people underrate the passive (or so it is thought).
***
What? Why?: Helping you make sense of our rapidly changing global economy. NPR's Planet Money highlights high rollers, brainy economists, and financial experts to keep you up to date on the fiscal world. Money makes the world go around, so listen on-demand with two podcast episodes each week.
My take: Planet Money is a well-known podcast in economic and financial fields. Despite its reputation, the hosts manage to keep it light and friendly, which feels good. Yes, listening to Planet Money feels good. Antitrust is mentioned here and there, but the reason why I have included it in the list is because Planet Money gives me a broader perspective on the state and actual functioning of markets. I find great information in it and then develop my own thinking out of it.
Test episode: "Antitrust 2: The Paradox": This is the second episode in our series on the history of competition, big business, and antitrust law in America. Quick recap: A little more than a hundred years ago, the Supreme Court broke up the Standard Oil company. It was a turning point in the balance of power between enormous companies and the free market. We told that story in the first episode of the series. In the decades after that, the government got more and more aggressive—intervening in the free market more and more until a lawyer named Robert Bork completely transformed the way antitrust law works in America, and paved the way for today's tech giants.
***
What? Why?: Capitalism is the engine of prosperity. Capitalism sows the seeds of its own demise. Could both be right? Luigi Zingales (University of Chicago) and Kate Waldock (Georgetown) share the sort of irreverent banter you'd hear between economists at a bar, if economists were capable of sarcasm and social enough to go out to bars.
My take: I'm fairly new to this podcast. The two co-hosts are well-known academics which makes the podcast sensible. They are also entertaining. The dynamic of having two co-hosts (they sometimes tease each other) is great. Their ideology is quite clear and I like that they do not hide their views – and political agenda (?!).
Test episode: "Antitrust Pt 3: The Europeans": Our third and final episode on antitrust law looks at the E.U.'s recent $5 billion fine against Google. Kate and Luigi hear about double-sided markets from Nobel-winning economist Jean Tirole and explore the E.U. vs. U.S. approach to antitrust enforcement.
***
What? Why?: Demetri Kofinas interviews some of the most brilliant minds in science, technology, finance, politics, and culture as he uncovers the underlying forces driving the most powerful changes we see in the world.
My take: I stumbled upon Hidden Forces a few months ago and I almost catch up with all episodes. There is no equivalent to it. Antitrust law has never been the main topic of one episode, and yet, I find a lot in it. Demetri is incredibly well prepared and knows a lot about digital transformations and the crypto-blockchain world. If you want to know more and get a scientific light on these obscure topics, Hidden Forces is your way to go.
Test episode: "How the Internet Happened: From Netscape to the iPhone | Brian McCullough": Brian McCullough joins us for a conversation on the history of the World Wide Web. The conversation spans the earliest days of the web beginning with the browser and Netscape's historic IPO that kicked off the greatest stock market mania since 1929. Additional topics include Google, Amazon, Napster, Microsoft, and more.
***
What? Why?: From WSJ Radio, the Wall Street Journal Tech News Briefing podcast keeps you up to date on the world of technology. Hear about the top newsmakers and products that are changing the world. Stay informed about tech stocks making moves as well on this daily podcast available on demand.
My take: Every morning, the WSJ puts a new episode on the air. It allows me to follow technological developments and firms' strategies very closely. The format is great, it's only 5-9 minutes long, it's very well-made and at the forefront of everything you want to know about new technologies (mainly coming out of big tech companies).
Test episode: "Instagram Goes Amazon With New Shopping Feature": To capitalize on its popularity among fashion and consumer-goods companies, Instagram is going deeper into the e-commerce business, selling products on feeds for the first time. The Wall Street Journal's Jeff Horwitz has more.
******